PESCHIOLE DI VAIRANO PATENORA, IN THE PROVINCE OF CASERTA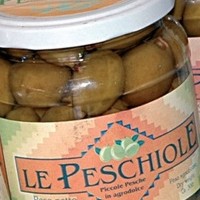 Peschiole di Vairano Patenora, in the province of Caserta are small peach fruits that are picked while still green at the first thinning, when they measure just one or two centimetres and the seed has not hardened yet. They belong to the category of peachhazel, they have a glabrous fruit, and are particularly apt for following preparation.

After being carefully washed, peschiole are cooked in water and vinegar with spices, and then kept in glass jars They are preserved in vinegar and are eaten as an aperitif. They have a decisive and strongly characteristic taste, a crunchy and firm consistency.
Only recently this ancient recipe has been used outside of a family circle and has made peschiole famous, especially in restaurants and in gastronomic establishments specialised in traditional products.


PESCHIOLE DI VAIRANO PATENORA, IN THE PROVINCE OF CASERTA
Informazioni article by:
REDAZIONE, Pisa